Game Modes when facilitating
When you play Actee 100% online your web tool will give a frame on what we advise you to use as your Game mode. 
Below is a web tool overview, but please pay attention to the information from the provider of your web tool. They might have some great ways of using the tool. Here is the easy-to-understand overview.
Here is our Game mode advice for both setups. 
Please note if you want to play the Team Challenge Game mode but you are working in a plenary setup then we advise you to break the session when participants play.  Let groups come together outside of your session allowing them to discuss and talk related to choices they make in the games.   
Before breaking the session up you need to ensure participants know the Team challenge game structure.
Find more on the Team challenge Game mode here.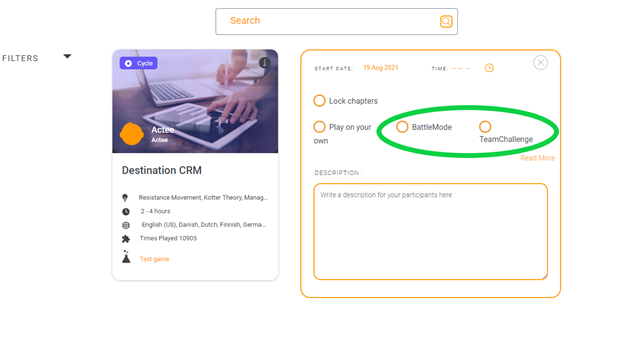 When you make your session you will be able to find a facilitation guide and on Actee games we also add script books/ detailed time plans for how to play the games. 
As a certified consultant, you find theory powerpoints and more script books and background material in the Facilitation Tools in the Consultant Tools under the dashboard.