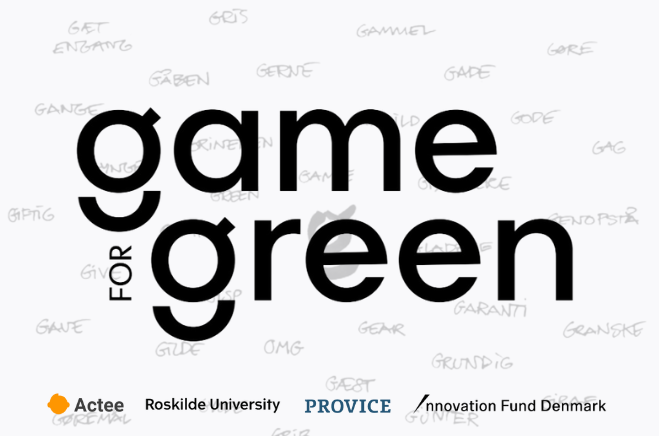 A Game Platform that Lets Society Learn Through Playing Towards Sustainability
A new research project aims to sustain and promote green behaviour among Denmark's citizens and employees through digital learning games that utilize AI to learn from the way they are played. The Innovation Fund has invested 11.3 million DKK in the project.
Game For Green Plays Denmark Greener Than Ever
The project involves a gaming platform that uses AI to assist companies and municipalities in developing games as a fun way to learn how to make green and sustainable choices, while also measuring the green impact of the games. This is the goal of the new research project called Game For Green, which has received an investment of over 11.3 million DKK from the Innovation Fund.

The project has been in development for several years and comes at a time when consumer mentality has reached a crucial turning point: change is desired, and this can be seen, for example, in the consumption of gas and electricity, which decreased by 30% in Denmark in the autumn of 2022. The project has garnered high interest and participation from its contributors, and it was not difficult to persuade participants to contribute.
"The green agenda has clearly emerged in the market, even for our global corporate clients. Our gaming platform has grown by over 100% in the past year, which speaks to the demand for learning in a new and fun way,"
says Leif Sørensen, CEO of Actee.
To boost global green and sustainable development, action needs to be taken in both private and workplace settings, and we need to be able to utilize technology and new knowledge on how to harness its full potential. People want to try, see, feel, and experience the impact of what they can do in their everyday lives. What if we stop sorting waste altogether? How costly is it to heat our homes throughout the summer? How productive can we be if we bike or take electric scooters to meetings, reducing our CO2 footprint?
The potential is significant because Denmark is the most digitized country in the world, allowing us to collect and utilize consumption data across more than seven green sectors. This data can also be used to measure the actual impact of learning through digital games. Data on heat consumption, water consumption, and electricity usage, for example, are all available to municipalities and companies. A gaming platform that showcases the future of learning and behaviour change can enhance competition, innovation, and, most importantly, the overall effect on Denmark's CO2 emissions. Furthermore, there is significant research value in gaining more solid knowledge about which initiatives are effective and actually lead to a green impact.
Game For Green has three capable partners leading the project and five strong contributors representing municipalities and private companies.
The partners include Roskilde University, Actee, and Provice, covering research in digital behavioural design and AI, the development and launch of the Game For Green gaming platform, green business development and sustainable transformation. The municipalities of Høje-Taastrup, Vallensbæk, and Vejle are responsible for involving citizens and distributing the games to learn from them. HOFOR contributes detailed knowledge about water and district heating consumption, while Implement Consulting Group provides expertise in gamification and testing of the gaming platform.
For more information, contact Magnus Rotvit Perlt Hansen, Associate Professor in Digital Transformation, Department of People and Technology, RUC, at +45 4674-3476 or magnuha@ruc.dk.
About The Partners
Roskilde University and The Department of People and Technology lead the Game For Green project and participate with six world-class senior researchers and several junior researchers with state-of-the-art knowledge in ethnographic studies, digitalization, product innovation and design, artificial intelligence, and machine learning.

Actee
Actee's mission is to change the world through game-based learning and create engaging, effective, and sustainable learning experiences that promote behavioural changes, enhance performance, and foster a culture of continuous learning.

Provice
Provice helps businesses strengthen their operations through green transformation. Provice has many years of experience connecting practical experience with the circular economy and sustainable agendas to drive real change in projects.

Facts
- Investment from the Innovation Fund: 11.3 million DKK
- Total budget: 15.3 million DKK
- Duration: 3.5 years
- Official title: Game For Green: A Game Platform that Lets Society Learn Through Playing Towards Sustainability. www.gameforgreen.dk