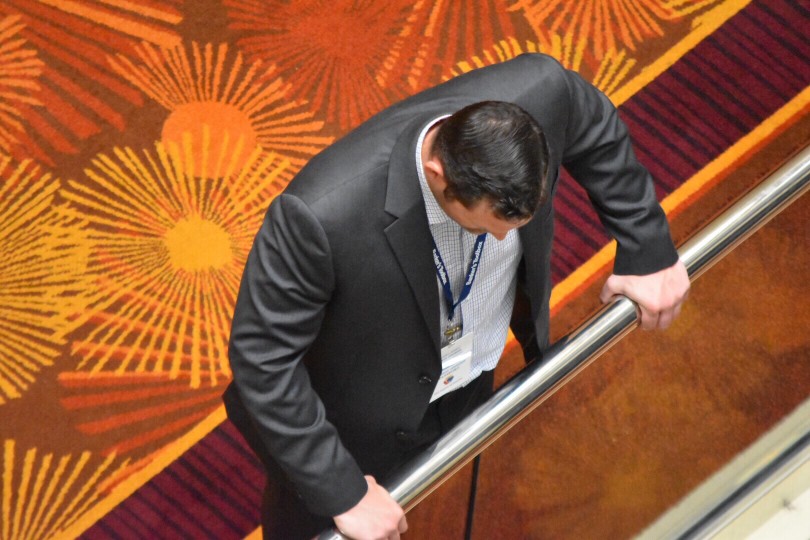 Masters Of Enabling Learning At Leadership Conferences
We recently spoke to Liselotte, a partner in HUMAN UNIVERZ, who shared her experiences on integrating engaging simulations in leadership conferences. When it comes to learning and development, many people see that the agenda is often filled with inspiring speakers and presentations. However, at the end of the day, we are still exhausted and inattentive because we have been on the receiving end of information and impressions coming from the speaker's chair. As a response to this form of one-way communication, HUMAN UNIVERZ has been successful in engaging the leaders to actively participate in the conference with the help of the Actee change simulation.
HUMAN UNIVERZ
HUMAN UNIVERZ is an award-winning change management consultancy and has been a long-term business partner. HUMAN UNIVERZ represents expertise that is sought after in the field of change management. In Actee, we are proud to see HUMAN UNIVERZ bring our simulations and tools to the organizations, where they enable learning, insights, renewed energy, and support to change processes as well as leadership- and organizational development.
As an Actee partner, HUMAN UNIVERZ educates and certifies new facilitators in, amongst others, ActeeChange and have great experience in running both small-scale workshops and leadership conferences.
What is your experience with using change simulations in leadership conferences?
"At this point in time, we have a lot of know-how with leadership conferences. We just had a full week of simulation workshops at three large leadership conferences. When we participate, with the help of the simulations, in a large leadership conference, it obviously very important that everything runs stringent and on schedule. For this reason, we are occupied with leaving our participants with the right impression. Luckily, the Actee simulator is a truly great tool for creating involvement and learning. Our experience with running workshops like these is that our participants leave the workshop with a feeling of being involved, entertained and inspired."
"Specifically, we know that our workshops, in which we use the change simulations, leave a significant impression because we are often contacted afterwards by people who would like us to run more workshops with other departments of the same organizations in order to dive deeper into the nature of their specific change process. I reckon that it's almost impossible to get better feedback."
What is the benefit of running the change simulation with larger crowds?
"The great thing about simulation concepts like ActeeChange is that it can be scaled up or down to the extent needed for the workshop. A simulation-based course can be conducted with a small group of people where the participants are able to work closely with one another, discuss essential topics and reflect on the learning of the simulation. The simulation can, however, also be used on a large scale where it can bring value and a common direction across a large organization. This is what you can do at a leadership conference."
How do you, specifically, organize and prepare simulation-based workshops and conferences?
"In order to prepare our participants to work with the simulator, I always ask them to see the change simulator as roughly the same thing as a flight simulator that trains pilots in navigating through rough weather. The change simulation works the same way because leaders and change managers are enabled to train and drive a change process forward without risking anything in real life. This often results in a situation, where the participants can focus on what change processes really are about."
"When we participate in leadership conferences, we often present a collective introduction to the change simulator and then proceed to divide the other participants into smaller groups, where they are able to discuss the topics with each other. What happens, across all gatherings, is that everyone has been active within the same learning universe, which creates a shared language around the change process that the leaders can bring back to their workplaces and put into practice. In HUMAN UNIVERZ, we believe that the shared language acts as a pivotal accelerator in the change process. We use the simulator to put specific change processes into perspective in making the leaders discuss and reflect on how they think they can push change processes and colleagues forward."
What are the leaders saying about your workshops after you participated in their conference?
"An interesting feedback that we often get after facilitating a simulation-based workshop, is that our participants feel that they have learned many new things - without looking at a PowerPoint presentation even once. They explain how they enjoy learning and attaining newfound knowledge in a new manner than what they are used to, which involves active participation and decision-making in a range of topics within the simulation."
"Something positive, which the participants experience, is that they experience situations, where they become closer with the people, they are doing group work with. They reflect together and afterwards; they have a better understanding of each other and their ways of acting in change scenarios. In this way, they get a good sense of when and how they can help each other by drawing on the competencies of their colleagues if they are facing problems or dilemmas that need to be discussed with colleagues."
"And finally, we almost always experience feedback like the following: "Time has passed by so quickly today. I have barely looked at my phone or e-mail – even though I was hoping to answer a few emails throughout the day". This is, in my opinion, awesome feedback because people have been immersed in the simulation and have not been able- or willing to focus on anything else."
What advice would you give to people who wish to bring the simulations to leadership conferences?
"I'll make this answer brief if you are having doubts as to whether or not it is going to work – just do it. You will create an unforgettable leadership conference, which is going to stay in peoples minds for a long time. In that way, this type of event is able to make a lasting impression, which has an effect in the long run."