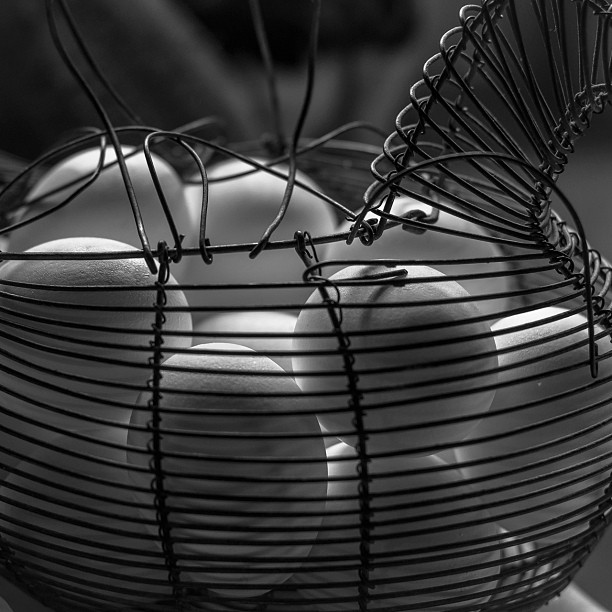 Stop Placing All Your Learning Eggs In The Online Basket
I use all of my waking hours travelling around the world talking to L&D departments in global companies about how to use our games and tools to move their workplace learning into the new age of virtual learning.
Almost all conversations I have now is about if they can achieve the same quality in online learning as they can get from blended learning.
"No" is my short answer. Online learning cannot stand alone. No matter the technology used to support the learning goals.
The CLIC Approach
You might be able to go a long way and achieve some great progress through your Learning Management System, but if you only focus on what kind of online learning system you need, then you will lose a lot of potential learning value along the way. 
Please remember I am saying this as CEO of a successful company with more than 40.000 users, which only product is digital learning games and tools.
We in the L&D industry have been putting too much emphasis on online learning, mainly because it solves the two biggest barriers that companies face when designing learning processes: time and money. But it has made us forget some very central elements.
Based on both my empirical and theoretical knowledge I have put together a model with four elements, which we need to take into consideration when it comes to creating successful learning.
A New Model For Successful Learning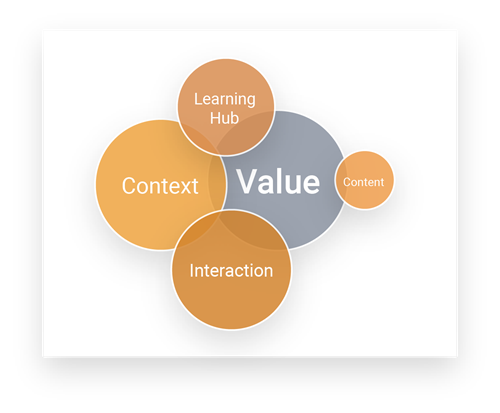 I call it the CLIC approach.
Element One: Context
In what context is the learning going to be applied? This is an area I think we need to put much more weight on. Because the context is crucial. Taking context into consideration means looking at your target groups, their everyday work life and the general frames for anchoring learning into your company.  You need to investigate what kind of barriers there might be for transferring learning in your specific company context.
Element Two: Learning Hub
When I say learning hub, I mean where does the learning spring from? From workshops, LMS, e-learning, lectures or games and tools like ours? Different learning hubs will create different kinds of learning and value. As mentioned previously online learning cannot stand alone, which also means that you enhance the learning by including multiple learning hub elements in your learning process. 
Element Three: (Social) Interactions
What kind of interactions can you create in your learning process design? Here you need to be creative and use all means since the social arena is important to sustain and maintain the learning goals you are trying to achieve.
Using games can be one way of creating more social interactions. It creates competition between the participants and opens a room for discussing and reflecting upon the choices taken in the game and their effects. I believe that social elements which make learning more engaging and fun will become increasingly important in the future. Here at Actee, we will be looking into involving AI in our games and tools.
Element four: Content
This is where we usually focus much of our time and energy. We want relevant and interesting content. But in many learning situations, your stakeholders already have a lot of knowledge about the subject. You need to activate this knowledge to make your learning processes better. Find out who is more knowledgeable than you and invite them to co-create the learning design and process.
Above is the model as I see the interrelations between the elements. As mentioned I believe we need to start to focus foremost on the context.
Context is where learning is being created and transformed into value. This means understanding the context also allows you, as a learning designer, to see the boundaries for other elements in the model.
Retail – An Example
If your context is a shop in retail, and your target group is the shop assistants, you would want to know more about how your company wants to drive support or service with customers. 
You want the learning to come in small bitesize portions, but with short intervals. Your learning hub could be a mobile phone, so it matches the everyday work life of the shop assistants, who do not sit in front of a computer every day. It is crucial that they have easy access to the learning. The interactions must be very closely related to a specific task for the person and it must be fun.
Adding in the social element you might want to allow participants to challenge each other to let them be even more engaged in the learning.
We know from the transfer theory that the more the content is relevant to the learner's context the more interested the learner will be in the proceeding. This is called 'specific skill transfer of learning'. (Wahlgren & Aarkrog, 2013)
To sum up. Consider all four elements, when designing your learning process and remember that the elements are interrelated. If you adjust one element you need to adjust the others as well.