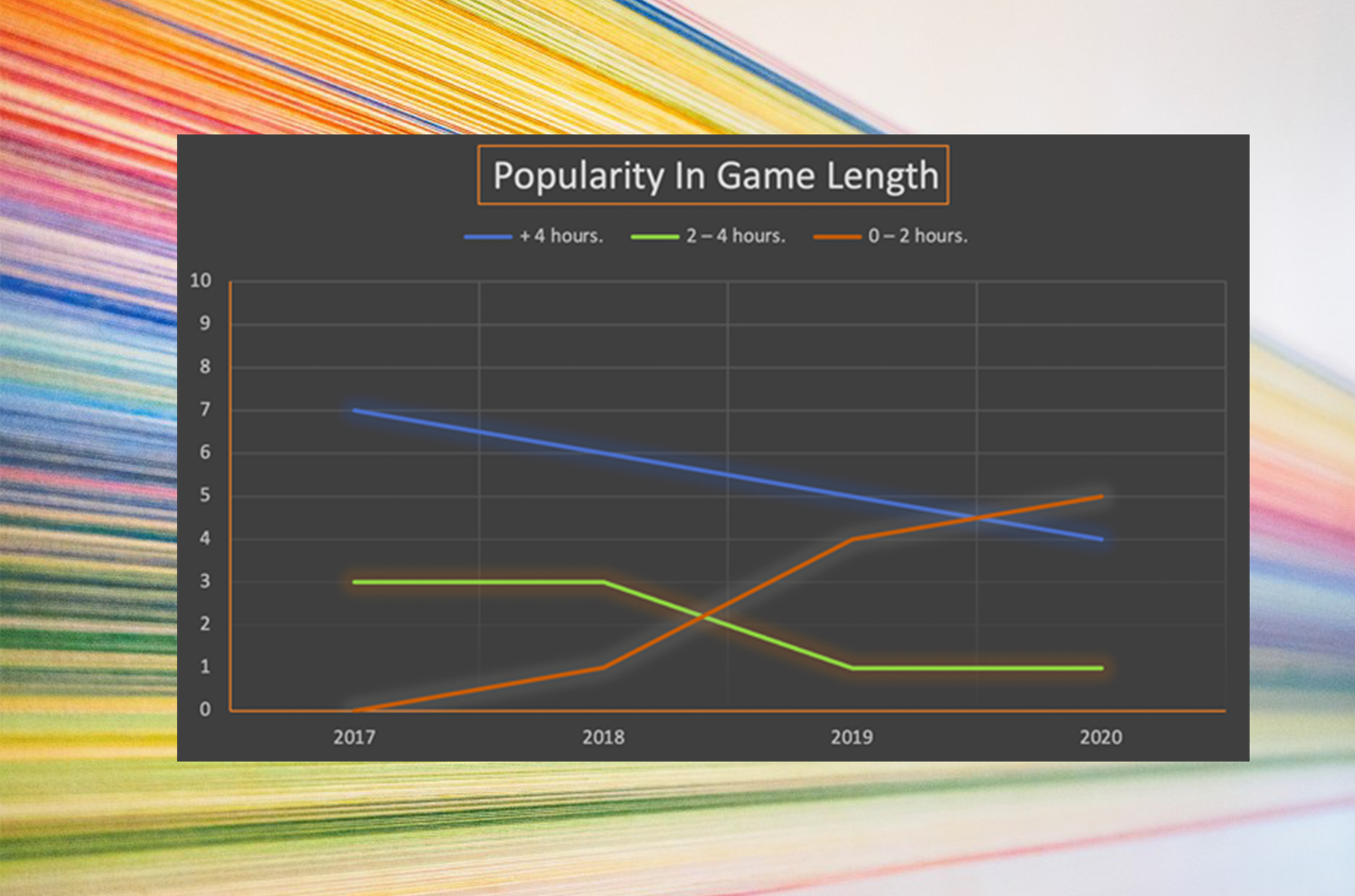 The New Way To Change The World...
If you want to tab into the Actee vision of changing the world using game-based learning, things have changed quite a bit in the last year. We believe most changes have been for the better for the learning outcome!
The most radical change we are seeing is the length of the games being played. Before COVID-19 most games were long version games taking more than 4 hours to facilitate. However, even before the outbreak of the pandemic, there was an increase in less time-consuming games.
Let´s look at the change in the type of games played by segmenting them into 3 segments as facilitated games.
Game Length facilitated: + 4 hours.
Typically, in this segment, games are being played and facilitated face-2-face in groups. These games are played when there is a need to learn about an evident theme. Some of the games are from the Actee shelf, whereas others are designed specifically to address certain needs with a client.
Games Length facilitated: 2 – 4 hours.
In this segment the structure is very similar to the 4-hour games, maintaining the face-2-face group format of the session, for a specific theme. And again, the games played are a mixture of Actee shelf games and customized games for clients.
Game Length - often not facilitated: 0 – 2 hours.
Games in this segment are often used as reinforcement or pre-workshop games, but they can be facilitated if desired. Shorter games have entered a new era of digital facilitation and are frequently used to create engagement and enable deep discussions. These shorter games allow the facilitator to create sessions that are more focused – this format makes it possible to focus on one specific theory or theme at a time. It is also easier for facilitators to custom-build shorter games to support their specific sessions.
In the next section we would like to give you an overview and in the end, the details of the game structure development from 2017 until 2020. The stats are based on a total of +50.000 started games. The focus below is only on the top 10 games being played out of a pool of + 100 games. Some games are developed by Actee, some by clients, and some by facilitators and Actee users.
If you like to test, play or create your own game, you can sign up for free here.
Times are changing so let´s have a look at the top 10 games played since 2017, divided into the 3 segments.
The further we move back in the years; the more frequent the standard face-2-face classroom sessions were. In 2017 there was no such thing as online workshops – absolutely not – there were 2-day-retreats where endless amounts of time could be utilized in the form of workshops, talks, and various other educational activities. As we move forward, through 2018 and 2019 we see the trends changing slightly, our users are experimenting with shorter games.
In just 3 quiet years we managed to move far in our digital understanding and use, and we started seeing that in the sales of our physical floorboards too – e-learning was slowly becoming a thing. Then COVID-19 hit the world and shook us all up. Digital tools were moving from a nice-to-have to a need-to-have in 2020 and online L&D suddenly became more important than ever.
What was realized in 2020 was, that you do not need the 2-day retreat to facilitate a successful workshop. It can first of all be done in as short as 0 - 2 hours where the knowledge retention and transfer are at least equally high. The shorter sessions will, furthermore, keep engagement levels high throughout the full session and a successful session motivates the participants to continue learning. The shorter sessions and games are also being used as reinforcement and prework in a fun and engaging way.
Now, if COVID-19 hadn't hit us, would we still be mostly utilizing the longer games? Truth is that we can't know for certain, but we can see in the data, that we were moving in a direction with more focus on shorter games. If COVID-19 had not hit us, would we be where we are today in terms of digital facilitation of learning?
Our guess is COVID-19 took 5 years of the transformation going from pure classroom to purely online.  
It's worth noticing the slowly increasing admiration and popularity for shorter games started way before the pandemic. We like to believe that our users are becoming better, more efficient, and with a deeper understanding of workplace learning and that even without the massive catalyst that was the pandemic, this is the direction we were moving anyway. 
Try a game yourself, would you rather play along (+ 4 hours), a medium-short game (2-4 hours), or a very short game (15 min)?
Destination CRM. The IT system implementation (+4)
Destination CRM Short. The IT system implementation (2-4) 
Quarantined getting back to the office: Teaching Old Dogs New Tricks (00:15) 
If you have become interested in how to get to use Actee, then start your free subscription here. 
Or contact one of our +2000 global certified network of facilitators here.
If you want some more details the following section focuses on the top 10 games played from 2017 until 2020.
Top 10 Games From 2017 - 2020
This is 2017
As you see, 4 years ago, the norm for sessions being facilitated with Actee games was at least 2 hours long. Anything shorter than 2 hours was available to a certain degree, but in no way utilized to the same extent.
The most played game in 2017 by far was the 'Destination CRM' game with the shorter (2-4 hours) version of the game 'Destination CRM (Short)' in 5th place. Let's see if the dynamics of these 2 games shift during the next couple of years. 
This is 2018
Already in 2018, we are seeing a slow increase in the shorter games, where one short game has made its way to the top 10 most played games list, and now 3 games from the middle segment. 'Destination CRM' is still in the lead by far, but the short version of the game has plummeted to way below the top 10 list.
This is 2019
In 2019 the long games segment is still leading but no longer by as much. From one year to another there has almost become equal distribution between the long game segment and the short one.
'Destination CRM' is still the most played Actee game, however, the short version is having a somewhat miraculous return, now placing second. It would seem that from 2018 to 2019 the top games' popularity has not fallen; it has just been redistributed between the long and short versions of the CRM game.
This is where we see the first radical change in our users' behaviors. The themes and theories that have been most popular, are still so – however, a movement has been made clear to us, that the shorter games are on a fast track upwards.
This was the reality of the situation in 2019, and then COVID-19 hit…
This is 2020
In 2020 we see the scale being flipped around – were in the previous years, the longer game segment had managed to retain its popularity and position on top, only decreasing slightly over the years. Now the reality is that the short games have overtaken.
For the 'Destination CRM' games, the short version is now on top – more popular than the long version had been in the previous year. The long version is in second place but drastically decreasing in popularity still.
Check Out The Data Module Here