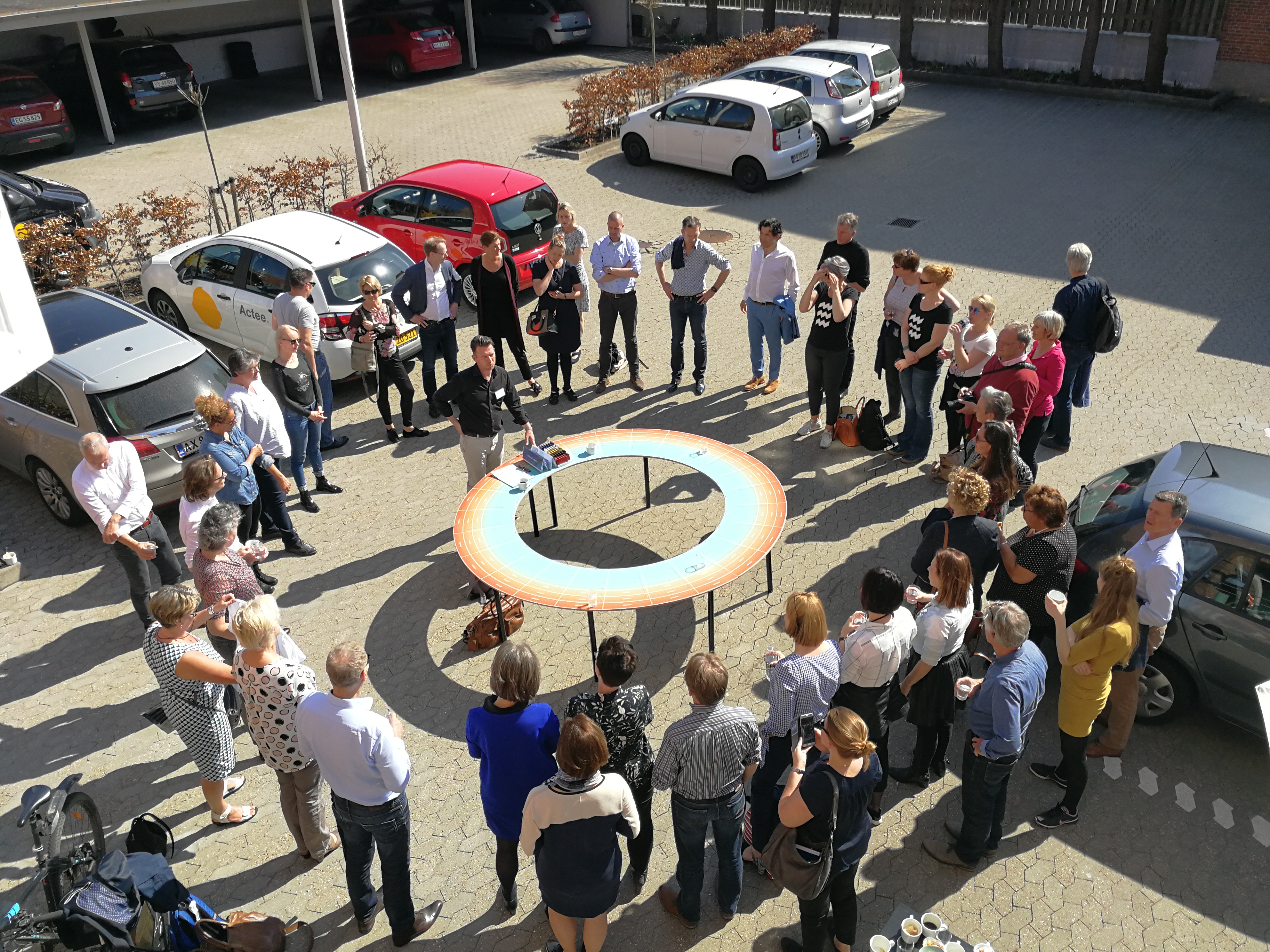 Visit From 48 Dutch Leaders
A delegation of 48 leaders from Dutch municipalities came to visit Actee's head office in Roskilde to see how learning games could be an important tool in improving public service.
They filled most of the courtyard by the Actee office building. 48 Dutch leaders gathered around the ActeeChange floorboard, where CEO Leif Sørensen talked about how Actee has the ambition of creating 2nd generation learning. This means that learning has to be seen as more than the specific teaching situation. Learning is as much what leads up to it and what comes after, an approach Leif Sørensen has described as the 'Kiss Model'. And as Actee's tools and games; future learning technologies will have to be accessible anytime and anywhere.
Game Time
"Bring out your phones, it is time to play a game. This one is about how you lead ten employees through the change process of implementing a new CRM system",
announced CEO Leif Sørensen after all 48 leaders had settled down in the meeting room.
The leaders accessed the game on their own individual phone, but played in groups of 5-6 people, using the multiplayer function, where you as a player both need to make individual choices and agree on choices as a group in order for the game to proceed. For many of the leaders, it was a new experience to gain theoretical knowledge and solving leadership dilemmas with a game.
Esther Henzen, front left, and 47 other Dutch leaders playing an ActeeChange game. 
One of the leaders, Esther Henzen, said after the session:
 "I believe that the future of learning involves games on a much larger scale because you learn better when you play."
Inspirational Tour
The leaders came from different municipalities in Holland where they are in charge of citizen service centres. They had come to Denmark for a three-day inspirational visit to look at different ways to innovate and improve public service. The group is part of an organization for directors for public services in the Netherlands (Vereniging Directeuren Publieksdiensten VDP).