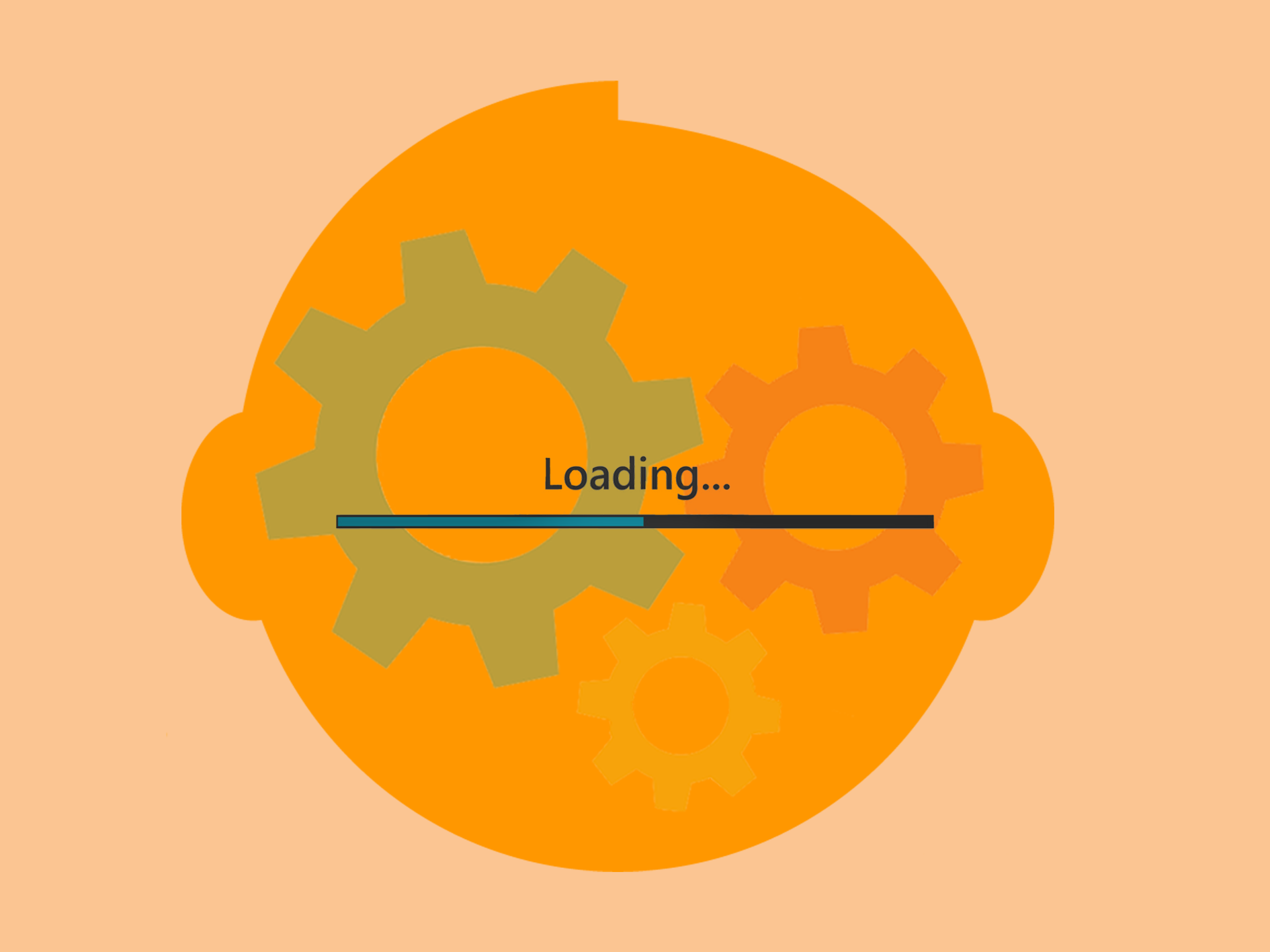 Updates Coming THIS MONTH
PREPARE YOURSELF THIS MONTH Where we are releasing our highly anticipated updates!
We've dedicated extensive time and effort to bring you the latest enhancements, and the moment you've been waiting for is almost here. We're thrilled to announce that this month, we'll be going live with our most eagerly awaited updates!
Introducing the Angular Project - Elevating Speed & Performance
During the next few months, you will undoubtedly notice that our platform's speed and stability have improved. 
The first places you will take notice of this are in the Log-in flow and on the Dashboard. 
One by one the gameboards will be updated too, ensuring a much smoother experience for the participants playing, with fewer and shortened loading times. 
Rest assured, all the content on your platform currently; your games and data will remain exactly as is - the difference is, that you'll soon be able to access it at light speed!
The Dashboard
The dashboard will soon undergo an update, enhancing your experience by providing not only weekly and monthly overviews but also introducing a forthcoming yearly option. Additionally, an upcoming enhancement includes the integration of your CO2 Execution data.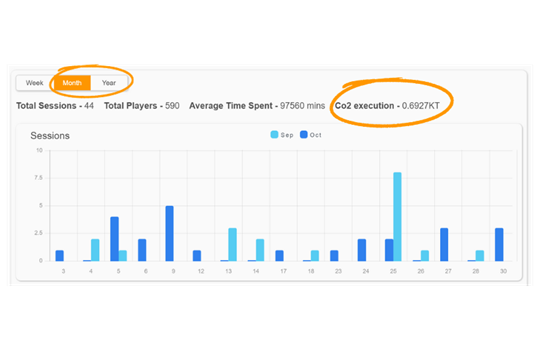 Upon entering the platform, the menu bar will now be initially closed by default. However, rest assured that it remains conveniently accessible in its familiar location.
Enhanced Game Categorization 
Coming soon, you'll have the power to effortlessly filter Actee games by categories. There will be default categories for when you land on your games page, and you can from there on customize and filter for your needs.
This feature guarantees convenient access to a wide range of games and tools related to, for example, Leadership Development, Sustainability, Change Management, and more - all available through a single search. The search engine will remain active, allowing you to quickly find that specific game, while the filter lets you explore a spectrum of tools related to the same theme, igniting fresh inspiration.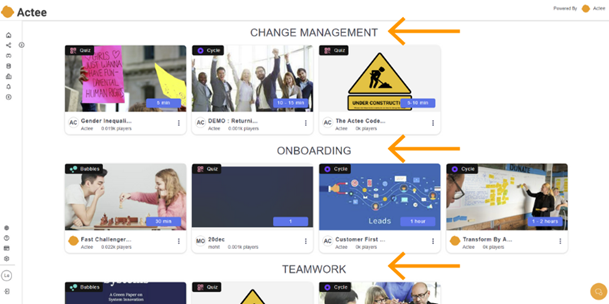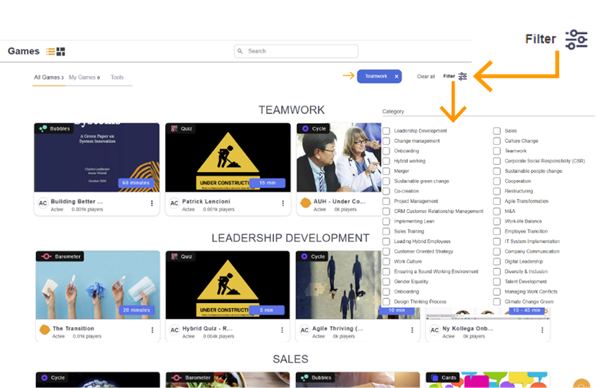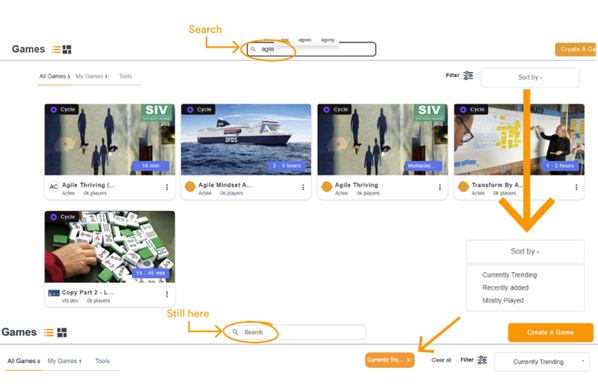 Furthermore, you will have the option to click your way through the categories "Netflix-style".

See how the new changes will look from Friday on below! 
Coming later this year:
The New Designs
The Cycle-Gameboard is the first of our gameboards to undergo a new and improved re-design process. The essentials that you know and love will stay, but they will now be presented in a cleaner more user-friendly design, making it trouble-free for new participants to get acquainted and play with Actee.
Step by step, every Actee gameboard will be treated to this refreshed and refined design touch.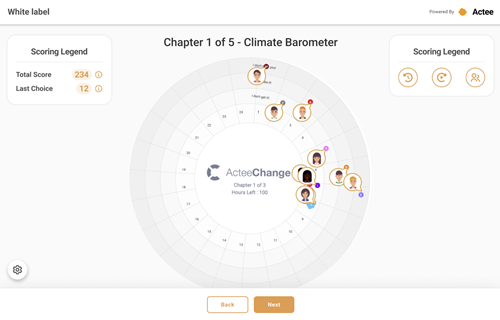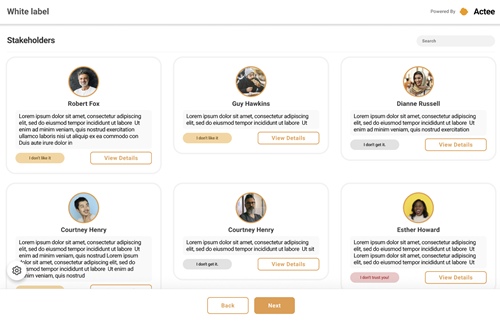 The Changes from last update, if you missed it...
It has never been easier to translate your games! 
You might have experienced wanting to translate a specific Actee game into a new language...
Doing so has been quite bothersome in the past, as the exported texts also included images, links and unused stakeholder comments. But, we have given it a polish and a user-friendly upgrade! 
When you export the texts from the game now, it should only include the text that actually needs to be translated, and it should be super easy to see, where you should insert the ready translations. Once that is done, you upload it into the system and voila - you have successfully translated the game into a new language. 
Super Users are now even more Super!
Super users do now have the option to share access to sessions with their colleagues and partners! 
By doing this, you allow the invited partner to customize sessions and to partake in the host view - in other words, you can now come together across industries, companies, and offices to cocreate and co-facilitate an Actee session.  
Changes In Pricing
Starting from April 1st, we will remove one-off packages to support our consultant clients and ensure that their investment in Actee is worth the time, effort, and risk.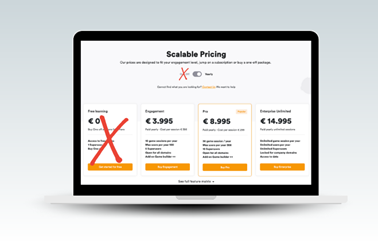 Our decision to remove one-off packages and create more business opportunities for our consultant clients is a testament to this commitment. We believe that by strengthening our network and providing the necessary resources and tools, we can collectively make a greater impact on the world.
The removal of the opportunity to get one-offs aims to create more business opportunities for our consultant clients and increase activity in using games as a tool for driving positive change.
Read more about the new price model here.

Loading Time Optimization. We know it's boooooring... and Patience is a virtue... it is getting old for you guys too. So we are working hard on minimizing our loading times! 
The other update is the new Session Creation Flow, which you can get acquainted with here below. 
Creating a session will start out like this:
After adding in the needed details, you click "Create Session" and will be relocated to the page below.
This will take you to a blank session. Select 'Add Module' to add a game or tool to your session: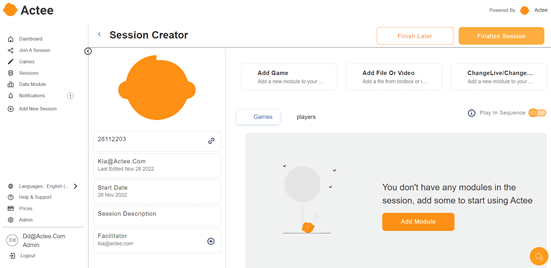 If you attempt to add a module, this is the list you will see. You click on the game you would like to add to your session, and press "Add Module" at the top right corner, to add the game to the session: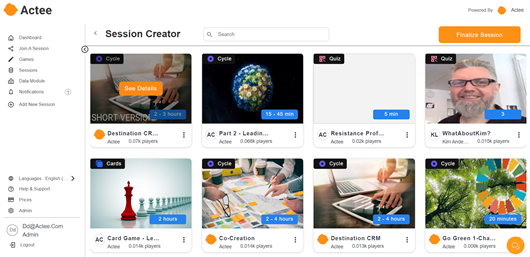 Clicking a game will let you read the description: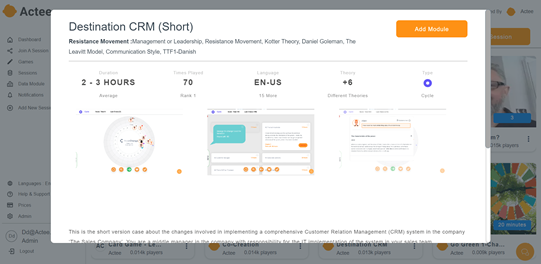 After you click "Add Module" you choose the game modes and set up the description details.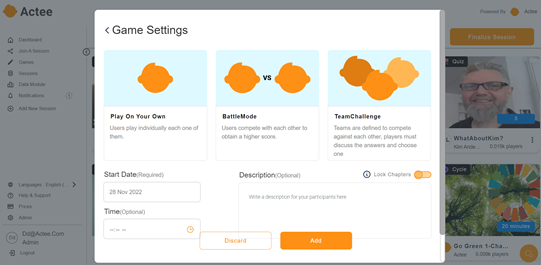 After adding a module, your session should look like this: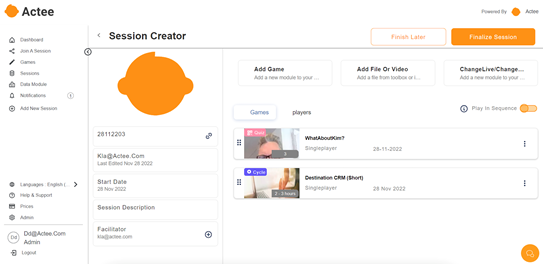 When you are satisfied, you click "Finalize Session" in the top right corner. 
However, there are a few other things you should know about the new session creator.
You can easily add files and videos to your sessions, as well as connect the session to other tools, such as the Change Meter or Change Live.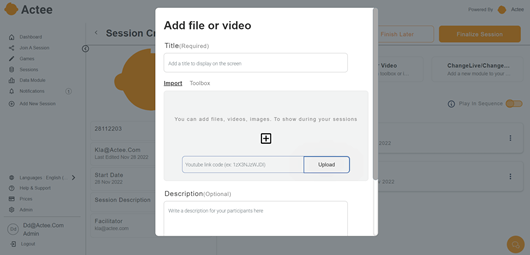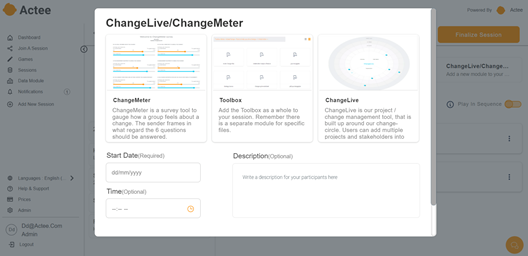 You can also easily add users directly in the session creation flow. Both the players can be invited into the game directly as "users" as well as collaborating consultants can be added to the session as co-creators.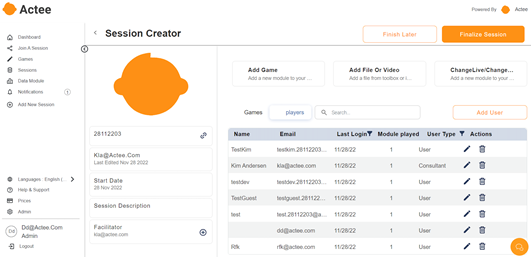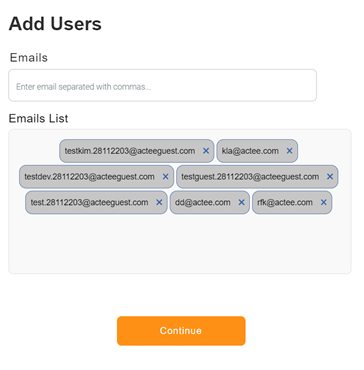 And again, whenever you are finished, you click the "Finalize Session" at the top right corner. Once you click finalize, this box should appear.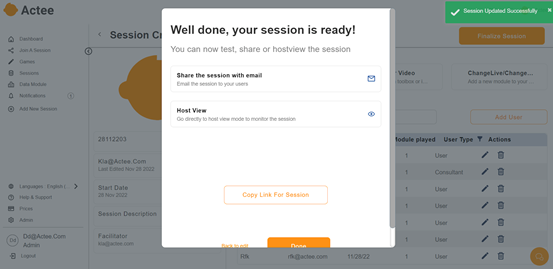 And this is how the session view should look for a consultant.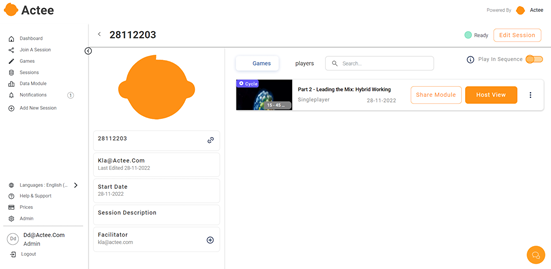 We hope you are as excited about the changes as we are! We are always happy with feedback, so let us know what you think!
The Login Flow
The new login flow is now live! Here's what it looks like since October 28th.
Standard Login Flow:
Guest Login / Session ID Login: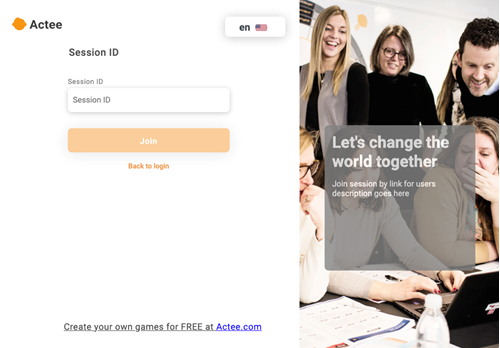 The Theory Changes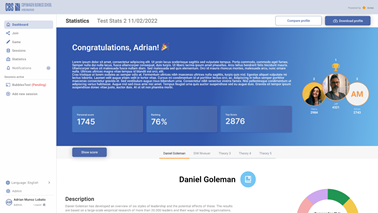 You will, once the new updates are launched, find it incredibly easy to form an overview of your results. 
At the very top, you will find all the ranking score data that you might need or find interesting. 
Scrolling down will provide you with positive and negative theory feedback connected to your choices throughout the game.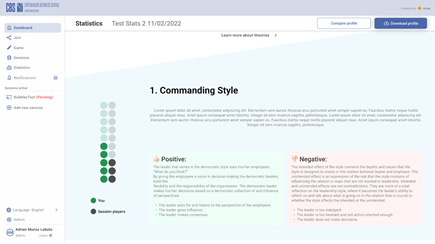 Compare & Download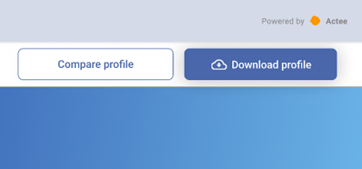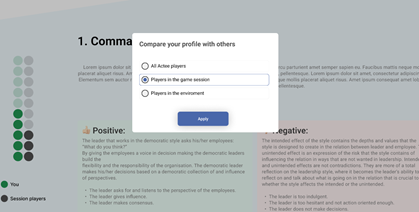 Comparing and downloading your personal profile is now located in an unmissable spot - it has never been easier!
On the left you will see two new bars - these are for comparing with another player or team. 
Furthermore, there are changes in the login flow and white label
More information will come on this when the updates are a little closer.
Stay Updated Through Our Newsletter