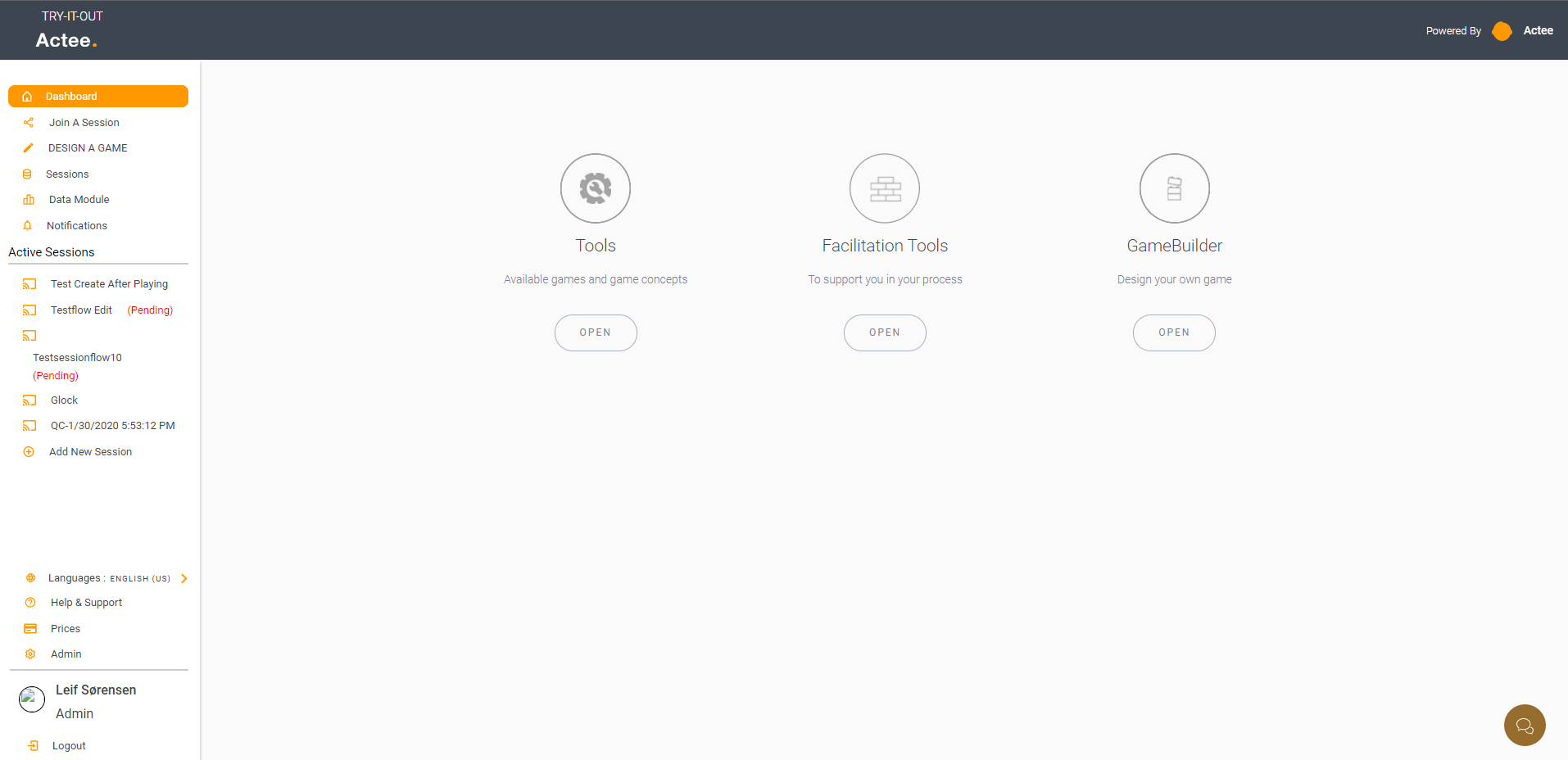 Any Navigation Inside A System Is Important
Any navigation inside a system is crucial to users' experience with the system. It creates a "yes" or "no" in the user's head. We all have a feeling of frustration if the navigation is not optimized or feels unlogic. If the navigation feels easy, we simply move to the next task… and don't even think about what we did. It simply makes it easier to change the world using games. 
The Menu
The first change is the navigation menu on the left. The menu will allow you as a superuser to go directly to your sessions and directly to the host view to see data profiles, follow sessions, or edit sessions. Your last 5 sessions will be open in the menu after logging in.
The menu can be collapsed to fill less on your screen. The menu stays while you play games too. 
The menu will look different depending on your role n a subscription - a guest user menu will only be able to see reg as a user or create a free subscription. This will make it easier to determine if users are locked in as a guest or as superusers.  

The dashboard will always take you to the main dashboard, no matter where you are in the system.  
Join a session will open the join session option.
Design a game Will open the game builder – if the tab is downgraded it means you need to upgrade your subscription to use the Game builder.  
The data module is opening the host view and will give you access to all your collected data as a superuser. In this module, you can compare sessions on theory and games.
Notifications are the information we provide on news, updates, and important information that might influence your sessions.  
Mid-section of the menu
Active Sessions will show the last sessions you have made and allow you to navigate directly to the session in the host view. You will also be able to start the flow of creating a new session directly from the menu.  
In the lower part of the menu, you have the following
Help and support If you need help you can navigate to the chat or to the FAQ
Prices will take you to the prices section allowing you to update your subscription.      
Admin is where you change the look of the subscription, look at user stat and invoices.
Profile section takes you to your personal profile to change password, change subscription is you are connected to more subscriptions. You will also be able to ask for the option to pay by invoice
We hope you like it as we do. 
Book a demo